TRAINING & CERTIFICATION OPPORTUNITIES
Find the latest training opportunities in Northwest Indiana. You could be eligible for FREE training.
SUCCESS STORIES
Hear testimonials from our customers about how going to WorkOne helped them land their new job.
INDemand Jobs
Find the latest high-demand, high-wage jobs right here in Indiana!
LABOR MARKET INFORMATION
Stay up to date with Northwest Indiana's latest Labor Market Highlights!
latest news
Laid off after 32 years in the media industry WorkOne customer uses transferable skills to start manufacturing career
Learn more »
GUEST COMMENTARY: My first job was at a laundry business
June 9, 2018 The First Job series is an initiative of the Youth Employment Council of the Northwest Indiana Workforce Board. Many variables have made it more difficult than ever for a young person to capture a first job and the NWIWB believes employers can have an impact on our future workforce by hiring a young person. Violet Sistovaris is president of Northern Indiana Public Service Company. The utility firm is best known to residents of Northwest Indiana as the gas and electric company. Its service area actually encompasses all of northern Indiana, providing 786,000 customers with gas and 457,000 customers with electricity. Violet joined NIPSCO in 1994 and became president in 2015. What was your first teen job for pay? I rode my bike to a small business in my neighborhood that was a combination Laundromat and dry cleaners. I grew up on the southeast side of Fort Wayne and I did this job for a couple of summers. How did you find the job? A friend of my dad's owned the business. My dad told the owner that he had daughters who were smart and good with money but I was the one who needed a job. So, I was hired. How much were you paid? I don't remember the hourly wage but I can tell you that I spent nearly every penny on clothes and shoes for the upcoming school year. I went to the local mall and spent most of my earnings at JC Penney and Claire's. What did you do? I worked the counter and greeted customers as they dropped off clothes to be dry-cleaned. I loved the customer interaction. I had regular customers and I enjoyed catching up with the activities in their lives. I had moms that came in and needed a stain removed from an item they needed to wear later that day. What skills did you acquire? I became pretty good at problem solving and multi-tasking. The work was steady with several high peaks during my shift. I had to figure out why a certain machine wasn't working while several customers stood in line to drop off clothes to be dry-cleaned. I also learned several financial duties that included billing and balancing out my cash drawer at the end of my shift. I have to believe you are a master remover of stains. (Laughing) I can report to you that I do my own laundry. What was your least favorite task? The coin-operated machines that dispensed laundry soap were not very reliable. I was not mechanically inclined but I did learn that a good smack would usually get the machine to release the laundry soap. I understand that you invite elementary-age girls to a career exploration day at NIPSCO? Yes. On President's Day we invite 125 Girl Scouts to our corporate headquarters in Merrillville as we talk to them about becoming an engineer. It's a non-traditional path for women and we hope to change that mindset. I serve on the board of directors of the Girl Scouts of Chicago and Northwest Indiana. I welcome the girls to our office, and then we divide them into teams and we have the girls participate in a competitive event. The Girl Scouts also have a chance to meet and talk with female engineers, and understand what they do. It's never too early to explore careers. It's a standing room-only event! What other career and workforce programs does NIPSCO sponsor? We work with many of our local schools; we inform students, teachers and counselors about the state of our industry and the skills people will need to be employed by NIPSCO or another energy company. We provide mentoring programs for high school students as well as internships and field trips to our local facilities. As the city of Gary is within our service territory, we also work with Mayor Karen Freeman-Wilson and have a summer youth jobs program. We want them involved in a positive and meaningful experience. We are very vested in our youth. What advice would you give to a young person about to begin their first job? Whatever the position, work hard and take the job very seriously. Ask questions. Always do right by your employer. My dad always said to my sisters and me: "Someone is paying you girls a lot of money. Make sure that you show up and do the very best job that you can." What advice would you give to employers about hiring youth and sponsoring workforce activities? Do it! The students are our future and we need to provide them mentoring, internships and summer jobs. Students need the opportunity to join the workforce and learn more about the exciting careers we can offer them. They must understand our expectations of them and the skills we need. View article in The Northwest Indiana Times. © Copyright 2018, The Northwest Indiana Times.
Learn more »
Podcast
Talking Talent
Talking Talent, is a podcast about workforce development hosted by Linda Woloshansky, President & CEO of the Center of Workforce Innovations (CWI). The podcast focuses on workforce development as it relates to education, economic development, and industry. Each episode features a special guest while highlighting local and state initiatives, effective collaborations, and best practices associated with developing a skilled workforce.
Learn More »
videos
events
Re-Entry Citizen Workshop for La Porte County Residents
Michigan City Library-100 E. 4th St., Michigan City, IN 46361 | 9am-4pm
View Event »
Re-Entry Citizen Workshop for Lake County Residents
WorkOne Gary-504 Broadway, Gary, IN 46402 | 9am-4pm
View Event »
Re-Entry Citizen Workshop for La Porte County Residents
WorkOne Portage-1575 Adler Circle Suite A, Portage, IN 46368 | 9am-4pm
View Event »
Re-Entry Citizen Workshop for Lake County Residents
WorkOne Gary-504 Broadway, Gary, IN 46402 | 9am-4pm
View Event »
Hiring event with Enlivant's Trail Creek Place
Trail Creek Place-1400 E. Coolspring Ave., Michigan City, IN 46360 | 10 AM & 2PM
View Event »
Employer Services
Job Seeker Services
WorkOne Facebook
Your WorkOne Northwest Indiana Center is a single contact point for businesses looking for the right people, and people seeking the right job or career. It is the one place to go to find work and workers. For Employers: We offer businesses cost effective, convenient access to thousands of job seekers, plus candidate screening, job fairs and other recruiting services. WorkOne offers valuable labor market information, and tips on how to qualify for grants and tax credits. We even have facilities for recruitment, training, and testing. For Job Seekers: If you are a job seekers, considering a change in employment, or developing a plan for your career, WorkOne Northwest Indiana can be your source for information, referrals, placement assistance and other services. WorkOne offers job seekers an innovative, robust website: indianacareerconnect.com where you may post your resume, conduct a comprehensive job search, explore career options, and research the job market. All of these services are available free of charge. For Young People: We even have special resources for young job seekers, including all types of materials, internet links, job fairs, and other resources to help you find a great job, or plan your career.
WorkOne Northwest Indiana
Saturday, June 16th, 2018 at 7:41am
WorkOne Twitter

Friday, June 22nd, 2018 at 6:21am
Laid off after 32 years in the media industry #WorkOne Customer, Mark Wethington, came to #WorkOne. Read his story to find out how his transferable skills aligned with a position in a new industry! #WorkOneNWISuccess https://t.co/0m672qgpah
Laid off after 32 years in the media industry #WorkOne Customer, Mark Wethington, came to #WorkOne. Read his story to find out how his transferable skills aligned with a position in a new industry! #WorkOneNWISuccess pic.twitter.com/0m672qgpah

— WorkOne NWI (@WorkOne_NWI) June 21, 2018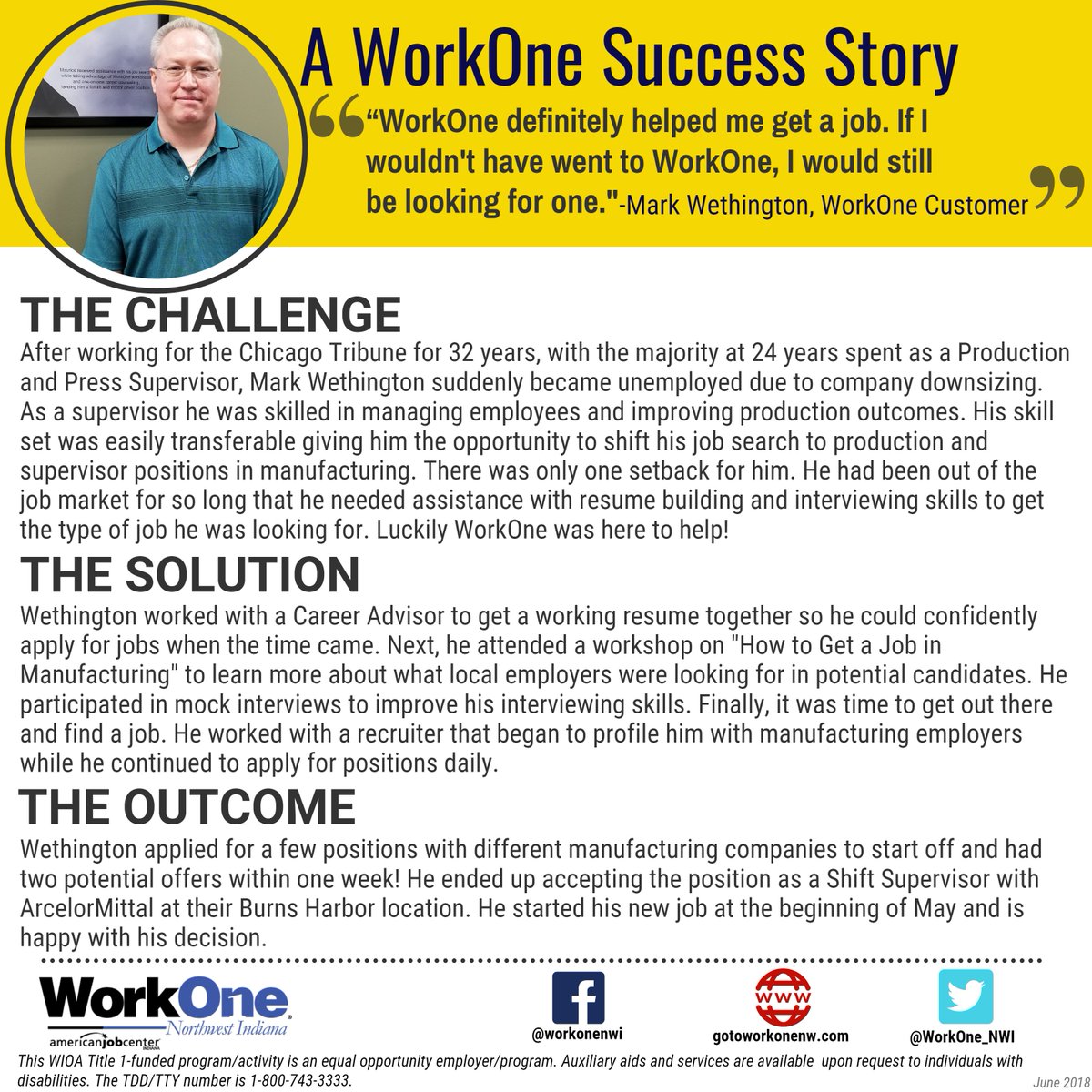 Wednesday, June 20th, 2018 at 4:15am
Event reminder!

Hiring event with Dyer Nursing and Rehabilitation Center this Thursday at WorkOne Hammond from 12-4pm! https://t.co/P2jePZXi7p
Save the date! #Hiring event coming up with Dyer Nursing and Rehabilitation Center June 21 at #WorkOne #Hammond from 12-4pm! @cityofhammond pic.twitter.com/236EqyJEaF

— WorkOne NWI (@WorkOne_NWI) May 31, 2018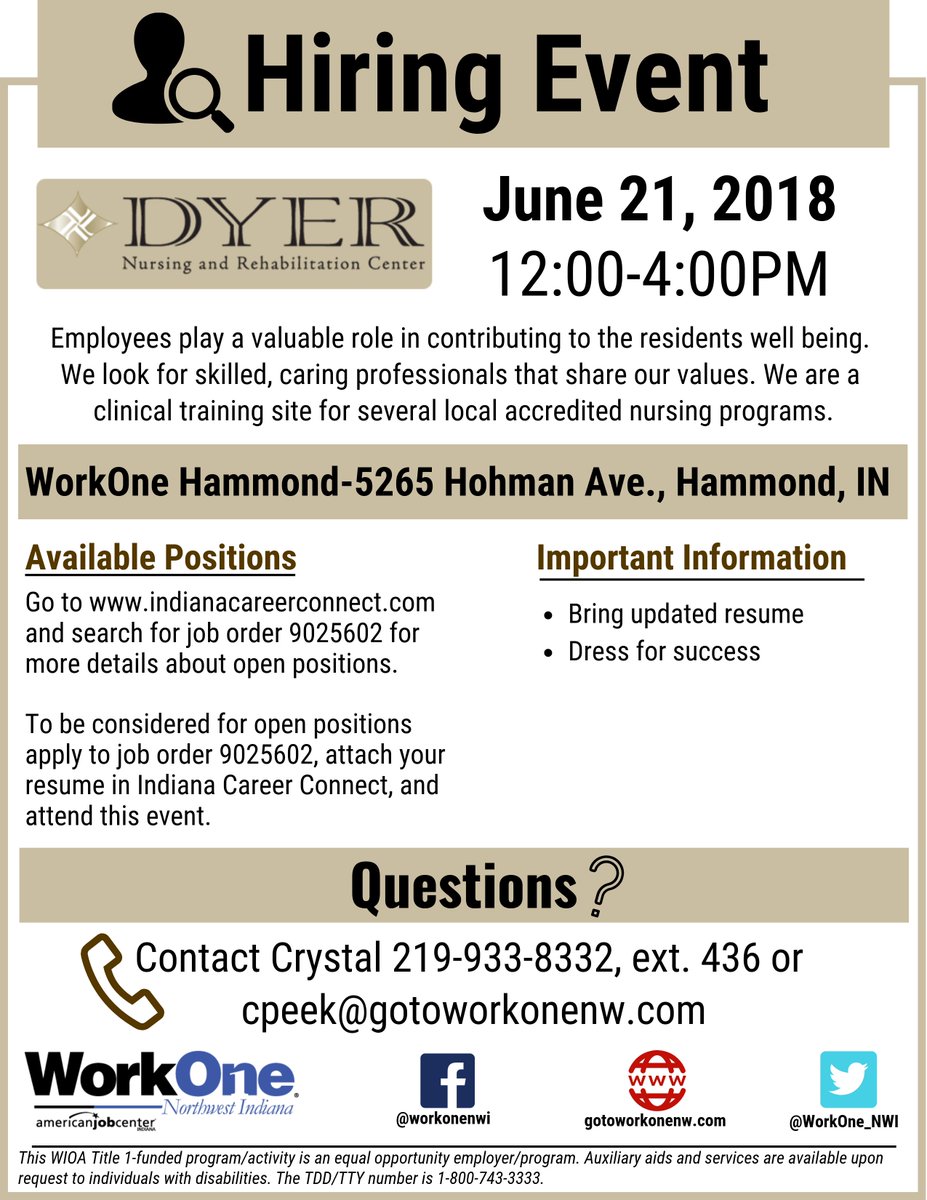 Thursday, June 14th, 2018 at 2:08am
The sudden closure of St. Joseph's College left 20 year employee, Rodney Honn, without a job. He came to WorkOne for assistance. Read about how together Rodney and staff aligned the skills he already had with a career in a new industry. #WorkOneNWISuccess
https://t.co/bn6JQsWk1r https://t.co/q4kwvn6eI8
The sudden closure of St. Joseph's College left 20 year employee, Rodney Honn, without a job. He came to WorkOne for assistance. Read about how together Rodney and staff aligned the skills he already had with a career in a new industry. #WorkOneNWISuccesshttps://t.co/bn6JQsWk1r pic.twitter.com/q4kwvn6eI8

— WorkOne NWI (@WorkOne_NWI) June 13, 2018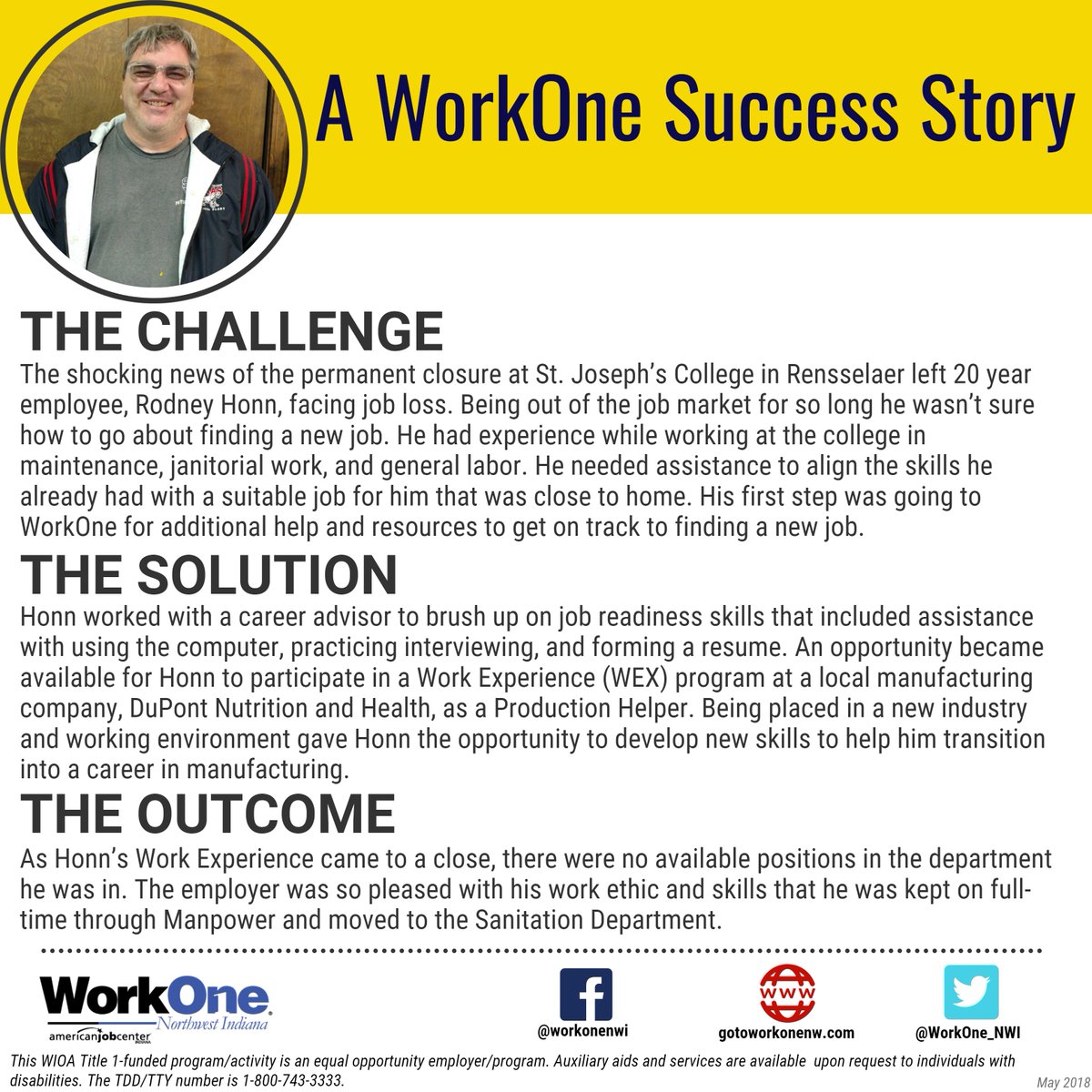 Wednesday, June 13th, 2018 at 2:19am
Save the date! #Hiring event with Command Center, June 28 from 10:30am-12:30pm at #WorkOne #Hammond! https://t.co/7dRbdojilP
Save the date! #Hiring event with Command Center, June 28 from 10:30am-12:30pm at #WorkOne #Hammond! pic.twitter.com/7dRbdojilP

— WorkOne NWI (@WorkOne_NWI) June 12, 2018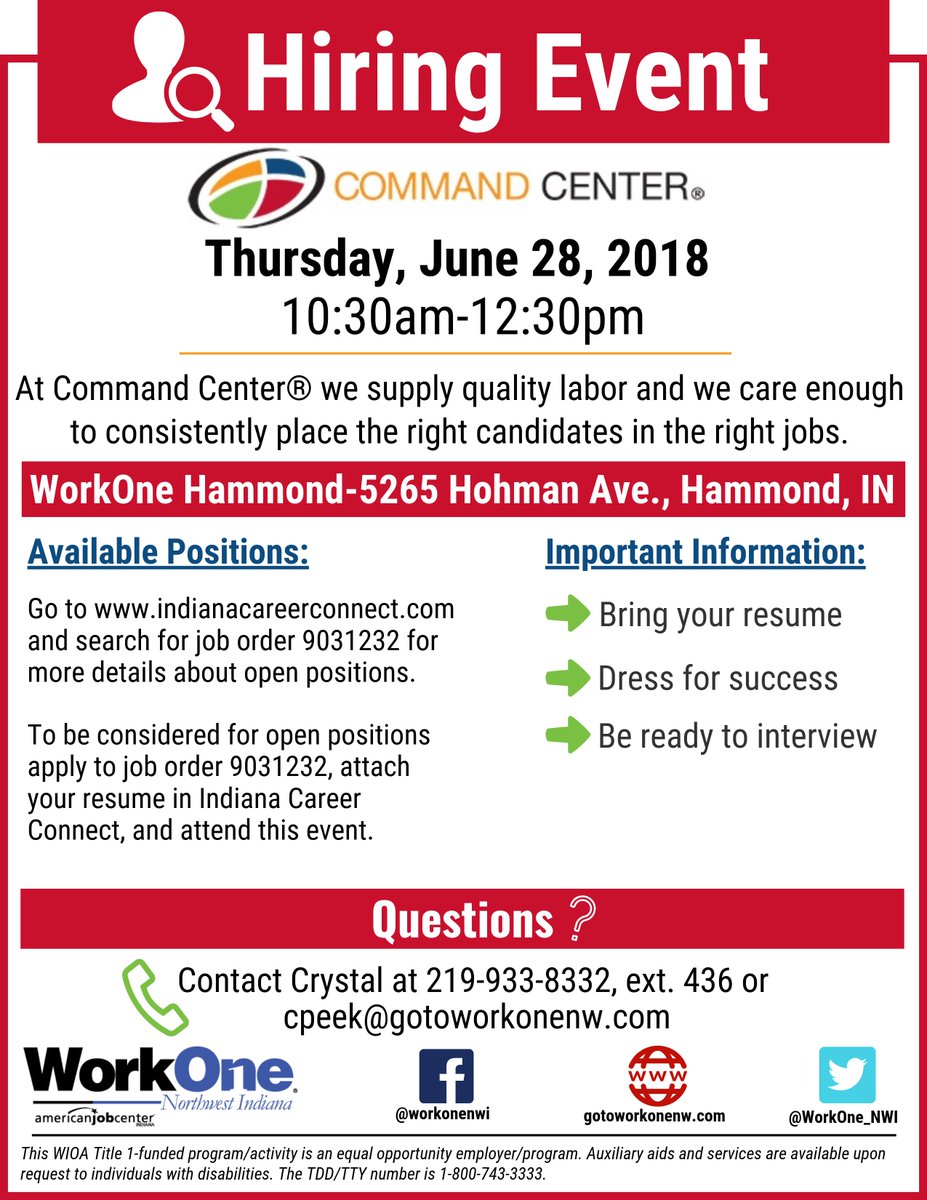 Tuesday, June 12th, 2018 at 10:39pm
This event has been cancelled. We apologize for any inconvenience. https://t.co/kmlusTrf6A
Are you interested in a #CDL or #TDL driving #career?

Attend the Transportation, Distribution, and Logistics (TDL) Awareness Session with May Trucking on June 15 at #WorkOne #Hammond! pic.twitter.com/i9pVwAIeKI

— WorkOne NWI (@WorkOne_NWI) June 7, 2018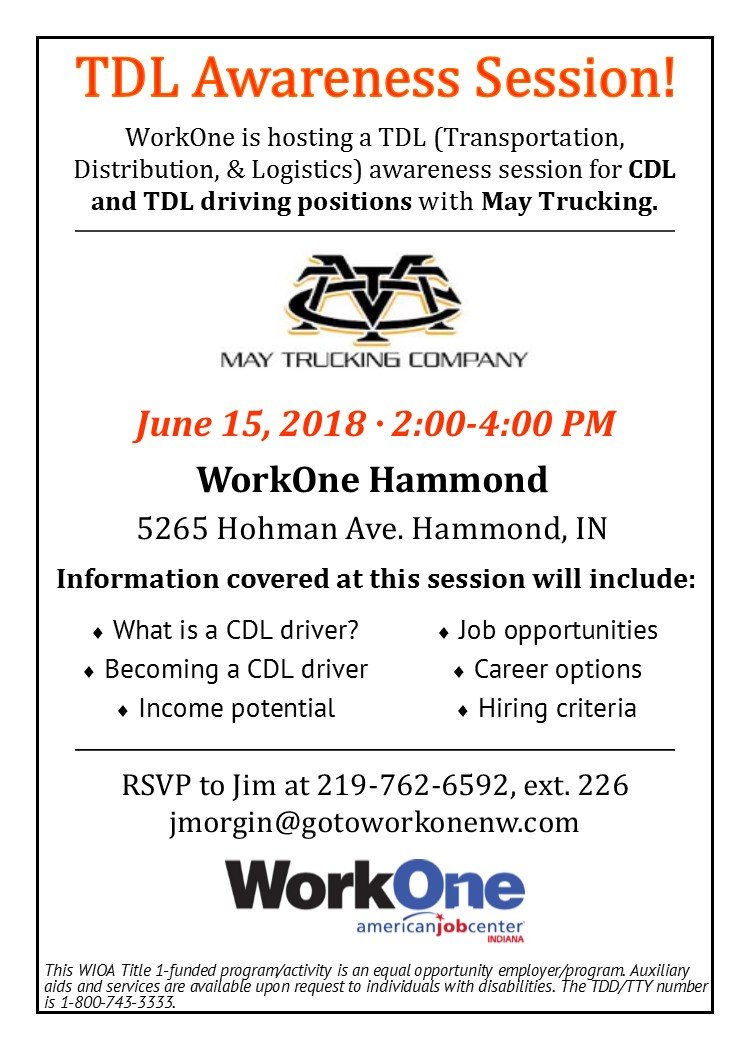 Tuesday, June 12th, 2018 at 3:28am
The first #hiring event with Allied Universal is tomorrow from 10am-3pm at #WorkOne #Hammond! https://t.co/jdzkj8qeI6
#Hiring events with Allied Universal June 12 & 13! Both events are from 10am-3pm at each location. pic.twitter.com/NpoQnIA7iC

— WorkOne NWI (@WorkOne_NWI) June 1, 2018